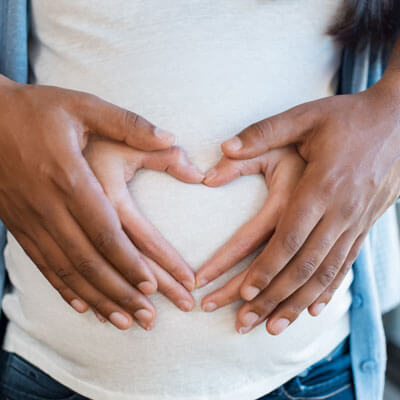 Pregnancy Chiropractic
Growing a life inside of you is one of the greatest gifts—but it can bring a great deal of pain as your body shifts, stretches and grows throughout the process.
We're proud to offer focused and gentle chiropractic care for pregnant women to help them experience a better pregnancy, naturally. If your OBGYN has approved you for chiropractic care, we'd love to welcome you into our practice!
Many of our past and current pregnant patients have reported chiropractic care reduced their pelvic and back pain, reduced sciatic nerve pain, promoted more room for the baby, and even reduced labor and delivery times.
Chiropractic care is designed to restore proper function to your nervous system while balancing the spine—when you're functioning optimally, you'll feel better as your baby grows!
Frequently Asked Questions
How often should I visit the practice for an adjustment?
This depends on what you're visiting us for. A typical course of care for an acute pain issue may be visiting us a few times a week for a couple of weeks, and reevaluating how you're feeling when that time period is up. For some, they're feeling better than ever, while others may require a few more visits for optimal function to be restored.
At our practice, we have a couple of different adjustment techniques that can be used on pregnant women to ensure their comfort. We can adjust you from a seated position or while lying on your side. Both allow us to put the necessary pressure on your spine without having to put pressure on your stomach area.
Will I need any imagining taken?
We typically will not require imaging for pregnant patients as we have the health of the baby and mom in mind. Instead, we'll speak with your team of doctors and get the best understanding of your health history as possible in order to make our recommendations for effective, gentle and safe care.
Schedule Your Visit
We'd love to help you experience an easier, healthier pregnancy without pain. Contact Montgomery Family Chiropractic today if you'd like to learn more and schedule a visit with us—we can't wait to welcome you to our practice and help you express your true health, naturally. Get started today.
CONTACT US »

Pregnancy Chiropractor Germantown MD | (301) 540-5300