New Patients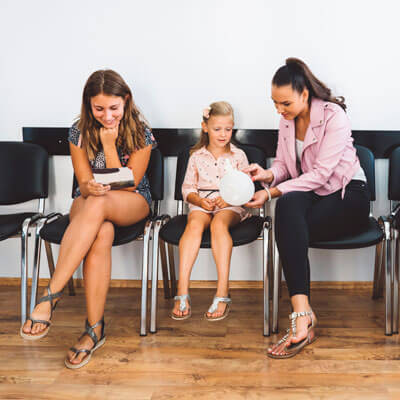 If you've ever gone to a social event where you didn't know anyone, you know how uncomfortable that can make you feel. Our goal is to eliminate every shred of apprehension and make you feel at home.
Since chiropractic care involves a series of visits, with each one building on the ones before, it's important that our relationship can go the distance. We've found that one of the best ways to have successful patient relationships is to explain everything in advance. No surprises!
The more you understand who we are, what we do and why we do it, the better results you'll enjoy. It's as simple as that.
Your First Visit
After you book your visit with us, you're welcome to fill out your new patient paperwork prior to arriving, which you can find here. If you have any recent MRI's or x-rays to bring, please do so. We recommend wearing comfortable or athletic clothing to your appointment to allow for easier examination of your back.
Upon entering the practice, you'll be greeted by our front office staff who can answer any questions you have. With us, we want you to feel like part of our family.
When you meet with our chiropractor, he'll go over your health history and perform a full exam and consultation. You'll have the chance to ask any questions you have, and we'll explain our recommendations for care after reviewing your case. For some patients, we may be able to perform an adjustment on this very visit—if insurance authorization is required, we may have you back for a second appointment before beginning care.
Ongoing Care
When you visit us for follow up adjustments, your appointments are likely to last just 15 minutes—we're conscious of your time and want to do our best at respecting the busy lives of our patients.
Schedule An Appointment
Ready to take control of your health and get back to living the life you love? We look forward to helping you get there. Contact Montgomery Family Chiropractic today to book an appointment. We proudly accept most major insurance plans.
CONTACT US »

New Patients | (301) 540-5300