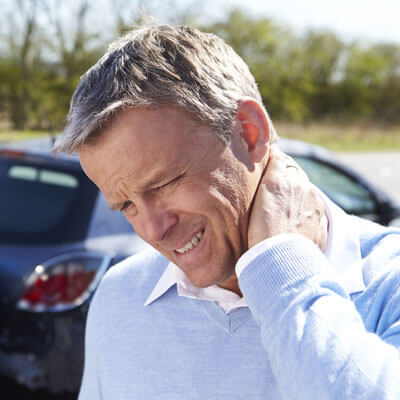 Auto Injury Care
Whether you've been involved in an auto accident recently or years ago, we want to help your body heal properly and prevent issues from arising down the line with focused, gentle and effective chiropractic adjustments.
When an accident happens, your body and spine can get "all twisted up." Joints and muscles become tense, spinal bones slip out of alignment, and nerves start communicating incorrectly. All of this can add up to inflammation occurring in your body as well as scar tissue building up.
Instead of living with pain,
chiropractic care
can help restore balance and function to your nervous system, getting you back to your pre-accident state with a custom care plan.
Frequently Asked Questions
How soon after an accident should I seek chiropractic care?
Simply put, the sooner, the better. That's because it can take time for symptoms to build in your body, even though the problem is there. Sometimes, your nervous system can be shaken or experiencing disruption, but it can take days, weeks, or months for "pain" to arise. By that time, the problem becomes more extensive to undo. We recommend that if you've been in an auto accident, you should schedule a visit with us to get your spine checked.
How long will I need to have regular care?
This depends on your unique case—with us, you're never just another number, so we don't subscribe to a "one plan fits all" model. We'll learn about what's really going on in your body to build a care plan designed to restore your health. A typical course of care may be seeing us a couple of times a week for a few weeks, and then reevaluating based on your progress.
Do I need to bring anything with me to my appointment?
If you have any recent MRI's, x-rays or tests, please bring them so we can evaluate and make proper recommendations for your care. You can also wear comfortable clothing and bring both your medical insurance card and your auto policy card.
Learn More Today
If you've been injured in an auto accident, we want to help. Contact Montgomery Family Chiropractic today to learn more about how gentle and focused chiropractic care can help you. We'd love to learn about your health goals and help you achieve them.
Get started today!
CONTACT US »

Auto Injury Chiropractor Germantown MD | (301) 540-5300